Be Strong when you are weak, Brave when you are scared, and humble when you are victorious.  
As many readers of this blog know, my youngest son Noah has been battling adrenal cancer for the better part of a year.  While his chemo regimen is complete, and he is getting stronger each day, the weight of a cancer diagnosis and treatment persists long after his IV port was removed.  The chemo treatments have left him with additional health problems including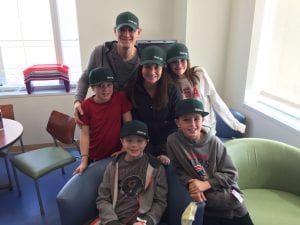 hearing loss, cognitive issues, and adrenal insufficiency.  We are slowly adjusting to our new normal which includes an intense medication schedule, hearing aids, trips to the ER and ICU, and catching him up on a year and a half of lost school time.  We are also working hard to ensure the wellbeing of our other three children.
In a conversation with a friend this week, I was discussing many of the challenges of raising a critically ill child, balancing a very busy work schedule, and meeting mounting family responsibilities.  As a good friend does, he listened and offered some simple, but wise advice. He said, "God never give us more than we can handle." I love when someone can take a complex situation and boil it down to the most simple elements.  I have been reflecting on this advice all week, and I have been coming back to those that seem to manage this situation so much better than me — my family.
It has made me think of how my wife Trish has shown strength of character throughout this ordeal and has learned every aspect of his treatment and ailments.  She is able to diagnose better than the doctors (well, the first year residents). My 15-year old daughter Ella has blossomed into a caring and sensitive young woman who now advocates for pediatric cancer research funding.  My 12-year old son Jack has become Noah's protector, always making sure he is comfortable. He stands up to those who give his brother awkward looks. Finally, my 11-year old son Jayden has become the friend to his brother, so badly needed when no one would play with him.
And me? It has taken every ounce of energy to get up every day, put air in my lungs, and handle the most basic of responsibilities.  I have learned more about strength and courage from Trish, Ella, Jack, and Jay than I thought possible.
We have all been given so much to handle and, I am happy to report, it seems that the sage advice rings true.  We will handle whatever comes our way.