Thousands of candles can be lighted from a single candle, and the life of the candle will not be shortened. Happiness never decreases by being shared.
~Buddha
Over the course of the past couple of weeks, our tiny community has experienced three difficult losses.  Out of respect to the families impacted by these losses, I will refrain from using specifics about current students or families.  However, it is important to acknowledge these individuals and celebrate their contributions to our community. Likewise, these tragedies are an important reminder of how amazing our community is.  It also provides us the opportunity to discuss how to best support someone who may be impacted by the loss of a loved one.
On April 14 the community lost Thomas Finnegan, the father of four Pleasantdale graduates (Jack, Thomas, William, and Patrick).  The Finnegan boys came through the district before my time, but I have learned that Tom was a devoted father and committed to raising four fine men.  Family was at the center of everything Tom did, and his legacy lives on through his sons.
On April 16 the district learned of the passing of two of our students' father.  Out of respect for the family I won't reveal their names, but a loss of this type shakes us to our very foundation.  While not surprised by the outpouring of support for this family I was in awe of how the school community came to the aid of the family and wrapped them in love and care.  The staff at our school created care packages and notebooks where the staff wrote heartfelt messages to the family. The care for this family (and especially the children) will extend throughout their time in our schools.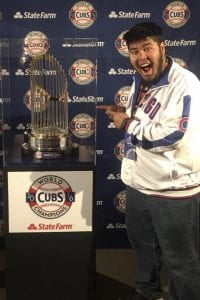 On April 18, Pleasantdale graduate Tony Banda passed away from a rare form of cancer.  While I did not know Tony or his family, I have heard so many funny and sweet stories about this wonderful man.  Those who knew him well described him as funny, caring, and always looking out for others. Once again the community came together to engulf the Banda family in care by sending meals, developing fundraisers, and helping anyway they could.  Again, the outpouring of care is a reflection of our amazing Pleasantdale community.
These tragedies sadden us and make us hold those we love even closer.  We grapple with how to best help the families through their loss and share stories of the lost.  There are however, some very specific ways to help those grieving from a loss (1).
Don't let fears about saying or doing the wrong thing stop you from reaching out.  

Grief does not always unfold in orderly, predictable stages. It can be an emotional rollercoaster, with unpredictable highs, lows, and setbacks. Everyone grieves differently, so avoid telling your loved one what they "should" be feeling or doing and simply be there for them.

Let your grieving loved one know that you're there to listen.  

Oftentimes, well-meaning people avoid talking about the death or change the subject when the deceased person is mentioned. But the bereaved need to feel that their loss is acknowledged, it's not too terrible to talk about, and their loved one won't be forgotten. By listening compassionately, you can take your cues from the grieving person.

Understand that everyone grieves differently and for different lengths of time.

For many people, recovery after bereavement takes 18 to 24 months, but for others, the grieving process may be longer or shorter. Don't pressure your loved one to move on or make them feel like they've been grieving too long. This can actually slow the healing process.

Offer to help in practical ways.

A grieving person may not have the energy or motivation to call you when they need something, so instead of saying, "Let me know if there's anything I can do," make it easier for them by making specific suggestions. You could say, "I'm going to the market this afternoon. What can I bring you from there?" or "I've made beef stew for dinner. When can I come by and bring you some?"

Maintain your support after the funeral.  

Don't make assumptions about how far along they may be in the grieving process based on outward appearances. The bereaved person may look fine on the outside, while inside they're suffering. Avoid saying things like "You are so strong" or "You look so well." This puts pressure on the person to keep up appearances and to hide their true feelings.
This is by no means a complete list of ways to support those who have experienced a loss, but they are good suggestions toward support.  If you are supporting someone who is struggling, the best thing you can do is to customize your support. Talk with them what they may need and give it to them.  If there is one thing I know for sure, it is that Pleasantdale will approach these situations and any others with genuine love, care, and respect.
---
1. From the article Helping Someone Who's  Grieving