Success is not an accident, success is a choice.
~Stephen Curry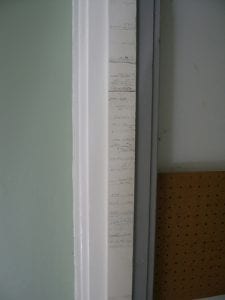 Each year, my wife and I take a few minutes and record each of our children's height on a door frame in the kitchen. It is great to see how much our kids have grown in a year, and we often remark about the different rates of growth for each child. We have found that our youngest (Noah 10) is actually taller than his oldest brother (Jack 12). We also note that our middle son, Jayden 11, is not the tallest, but often makes the most growth from year to year.  When it comes to height, our oldest (Ella 15) is the high achiever, surpassing her mother at 5 foot 7 inches. While we do spend a bit of time to track our kids height, we don't set expectations on how tall each child should be at a given point in time. It would be unreasonable to expect Jayden to be as tall as his brother was in 5th grade. Likewise we don't bemoan Noah's tall stature (even though we spend a small fortune in pants for him). No, we know that kids grow at different rates and we simply accept that.  
This week, the Illinois State Board of Education released the school report card for all schools in Illinois. This year's report card marks a significant change in the measurement of a school's effectiveness. In the past, schools were ranked based on students' attainment of a particular score on a single test. The new report card uses student growth, not attainment, to measure effectiveness. To put it simply, the state has moved away from a model that requires all 5th graders be 4 feet 10 inches or taller to be considered proficient. In this new model, 50% of a school's score comes from student growth. That means that from one grade to the next, the expectation is that students are making positive growth. This new system is focused more on measurement of learning. This is a huge step forward for education in our state and is better aligned with positive student outcomes.
The new report card also provides each school with a designation which ranks schools. The four tiers include: Exemplary, Commendable, Under Performing, and Lowest Performing. To put this in context, exemplary schools are among the top 10% of schools in the state while lowest performing are in the bottom 5% of schools. We are proud that our schools have been designated exemplary (PES) and commendable (PMS). We also recognize that while a transition to measuring schools by growth is a step in the right direction, the system is still flawed. Ranking and ordering schools, then labeling schools according to this ranking, does not move us in the direction of better schools. This system is no different than the last and leads to competition rather than collaboration. Nothing we know about education teaches us this is good for schools or kids.  Likewise, the use of an end of year assessment to measure growth from one year to the next makes little sense. If we want to know if a child has made a year's growth in a year's time we need to test in fall and then again in spring.
Common sense tells us that the not all kids will reach the same outcomes at the end of a school year, but that all kids should make a year's growth in a year's time. Our new school report card is getting us closer to a system that measures what matters and for that we are grateful. However, we will continue to advocate for a system that provides the right supports for schools and moves away from competition and toward collaboration.