Do not take life too seriously. You will never get out of it alive.
~Elbert Hubbard
This week I had the awesome experience of shadowing a 6th grade student for her entire school day. The goal of this exercise was to get an idea of students' daily experiences. Understanding the end users' (or students') experience is an import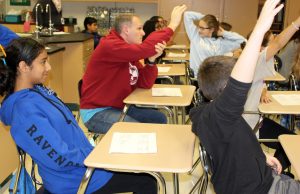 ant component in providing better service. It also allowed me to connect with teachers and kids in a new and exciting way.  I must admit the night before my shadow day I had a hard time sleeping; it's been a LONG time since I've been in PE class.  However, I knew that the more I put into this experience, the more I would get out of it.  So I made it my mission to fully immerse myself in the sixth grade experience.  That means that I did the homework the night before, I boned up on my Schoology skills, and I readied myself for a day of great learning.
The schedule of the student I followed was a typical nine-period schedule:
1st Period: Social Studies with Mr. Madsen
2nd Period: ELA with Ms. Szymczak
3rd Period: Health with Mrs. Driscoll
4th Period: PE with Mrs. Truesdale
5th Period: Recess/Lunch (Yes, I played Gaga ball)
6th Period: ELA with Ms. Szymczak
7th Period: Science with Mrs. Kim
8th and 9th Periods: Math with Mrs. Riordan (Yes, I took the math test.)
It was an amazing experience which allowed me to have extended conversations with students throughout the day.  I learned quite a bit about how students feel about school.  As I had conversations with ki
ds prior to the start of class, in the hallways, and at recess/lunch, students commented on how much they enjoy their teachers.  It was clear that the teachers had worked hard to build a rapport with their students.  The students discussed the personalities of their teachers, and it was clear how strong the student/teacher relationship really was.  The students also mentioned that they felt like they sat a lot in class.  Some of the students expressed a desire to move around the classroom a bit more.  Kids also commented that they loved the extra curricular activities we offer and wanted more.  This is great feedback that can help make our students' experience even better.  Finally, many students told me that they LOVED coming to school and enjoyed the their teachers and peers.
Being a student for the day was no easy task.  Having to switch classes and content areas quickly posed a challenge for m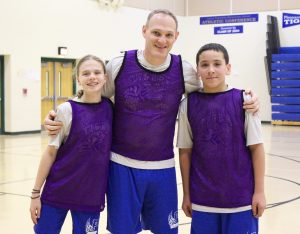 e as the student schedule is fast paced.  Likewise, the day was cognitively grueling and I found myself starving and tired by the end of the day.  I now better understand why my own middle schooler comes home ravenous and grouchy.  However, taking an active part in the learning and being a fly on the wall in our classrooms is a valuable experience that I would repeat in a second.  I want to thank the teachers and students who were so gracious with their time and patient with me as I took on my middle school challenge.  As I think about the value of this experience, I would expect that our entire administrative team will want to spend a day walking in kids shoes.  I also want to use my shadow day to improve the student experience.  We have some great things to come in PSD 107.