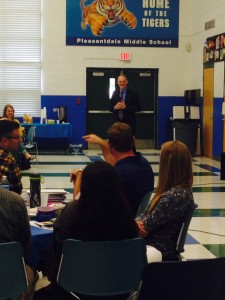 The best teachers teach from the heart, not from the book.

~Author Unknown
Often I have parents and students ask me what happens during a teacher institute day.  When I was a teacher, I had a fifth grade student who referred to it as "Teacher Institution Day."  The fact of the matter is that these are incredibly valuable days that allow our staff to reconnect with professionals that they don't often see and create opportunities to learn from one another.  Our district kick-off was yesterday, and we used that time to inspire, plan for the future, and set a new course for our schools. The opening day is always an exciting time and should be a celebration of the future.  Our theme for the day was, "The Future is Magical," and this sentiment echoed throughout all of our activities.
I began the day by presenting a keynote address.  This address outlined the ways in which we will enhance the culture and climate of our schools and create a district where every child loves school and every staff member loves work.  The main takeaway from the presentation was that we want our teachers to focus on high-level teaching and that it is the administration's job to support their good work.  This concept was well received by the staff.  We then broke up into groups and staff weighed in on our year-one district goals.  Our teachers are so thoughtful and provided great suggestions that will help move our district from great to greater.  We wrapped up the day by discussing a short inspirational video called Caine's Arcade.  Caine is an amazing little boy, and we discussed how we can bring out the creativity and ingenuity in all of our students.  From all reports, the staff left this session feeling recharged and ready to make 2015-16 the best year ever.
As we dig into the new school year, I look forward to making our schools better places to work and learn.  Our opening day institute was an amazing learning experience for our staff and a great way to kick the year off right.  I look forward to reporting on our progress throughout the year.